Leaking Shower Repairs
Leaking showers and leaking bathrooms, if left unchecked can cause serious damage to your home. Cracked and missing tiles or grout of any kind will allow water direct access to your membrane and can cause major and costly damage. You may only have a small crack but it can be very effective in causing long-term damage and dampness throughout. For most of our clients, we can fix their leaking shower and leaking bathroom without having to remove any tiles. A standard SCR service to a leaking shower generally takes 2.5-3hrs and leaves your refreshed shower ready to use the very next day!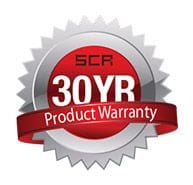 How We Fix Your Leaking Shower
Pressure testing
Tap Servicing
Tile removal and Repairs or Full Shower Tiling
Re-grouting of the shower, using Grout or SCRs Flexible-Epoxy Grout
Industrial waterproof seals
Sealing grout and tiles
Re-sheeting
Laying waterproof membranes
Removal of mould and fungal growth
Tanking and Screeding to correct drainage outlet
New Polymarble Base installation
Plumbing

Common Causes and Signs of a Leaking Shower
How SCR Fixes Leaking Showers Without Removing Tiles
1. Leak Detection
Using an electronic leak detector we can accurately diagnose the source of the leak in a non-invasive manner. As a result we can identify leaking tiles and pipes without unnecessary tile removal.
2. Degrouting
Once the leak has been identified we will de-grout the shower perimeter, floor waste, wall to wall junctions and step joints.
3. Membrane Repair
Using a premium membrane repair liquid, we will inject this liquid underneath the floor tiles and along the floor grout joints. Once this liquid has cured, all water seepage points will have been sealed and the waterproof membrane repaired. Upon completion, the area is thoroughly cleaned in preparation for step 4.
4. Regrout Floor & Wall Joints
Using a premium two part epoxy grout, we inject the floor and wall grout joints, sealing all water pathways.
5. Reseal Shower Perimeter
The final step of this process is the distribution of a silicone bead which is applied to wall to wall junctions of the shower. The shower leak repair has now been completed and your shower will be ready to use the very next day.
* Note that our first point of call is to determine whether a minimally invasive shower repair service is the right solution for you, however more advanced repairs will be required in certain circumstances to ensure that the your shower leak is properly fixed.
The SCR Difference
Carefully remove damaged tiles, plaster sheeting or render from the affected areas of your shower walls.
Re-sheet or render walls utilising high quality water resistant villaboard or re-render to your walls.
Our certified & licensed waterproofers and tilers can then apply the relevant waterproof membrane and polycloth bandage applicable to your job in accordance with the Australian standards(AS 3740 2006 & AS 4858 2004) requirements for residential and commercial waterproofing.
We can then retile your shower to meet your needs, incorporating the latest trends and designs SCR will aim to keep your home neat and tidy throughout the operational process.
When sealing showers correctly it is important to ensure there are no reoccurrences of your leak. We grout and seal all of our showers with high quality grouts (Epoxy Grouts in most cases) and using a combination of waterproof additives and hardeners.
Finally; by selecting SCR you're getting an ethical company where the Director is an actual tradesman not a salesman and has had hands on knowledge problem solving for over 35yrs. Get the advice and the job you deserve!
Want to Avoid a Complete Retile of the Shower
The SCR Flexi Epoxy Grout sealant is a two part epoxy resin that can be tinted to a selection of colours and shades, and can used in many different applications. It is the perfect remedy for those on a lower budget and as an alternative of a completely new retile of the shower. This falls in line with a smaller type repair, where the pulling up of tiles is not in the budget.
Using our very own specialised method, SCR has built a reputation in successfully using an epoxy sealing resin to repair leaking showers without the removal of tiles. This includes de-grouting the shower base then cleaning and drying out any damp with heat guns including the grout joints in preparation for our SCR Flexi epoxy treatment. Once that process is complete its a matter of applying the epoxy treatment and you will be left with a fully functional shower area without the previous leakage.
---
For most of our clients we can fix their shower and bathroom leaks without having to remove any tiles
A standard leaking shower repair generally takes only 2/5 hrs and leaves your refreshed shower ready to use the very next day.
---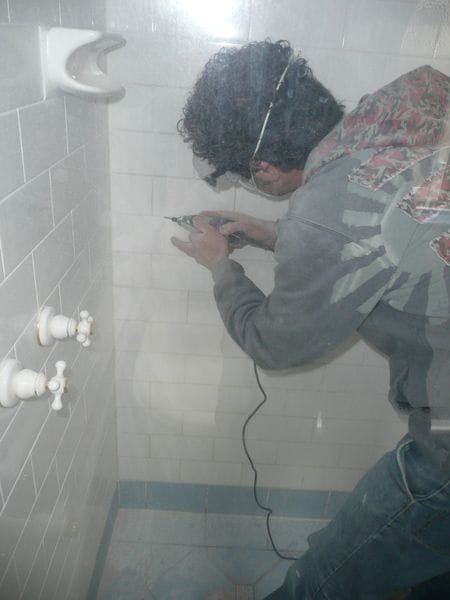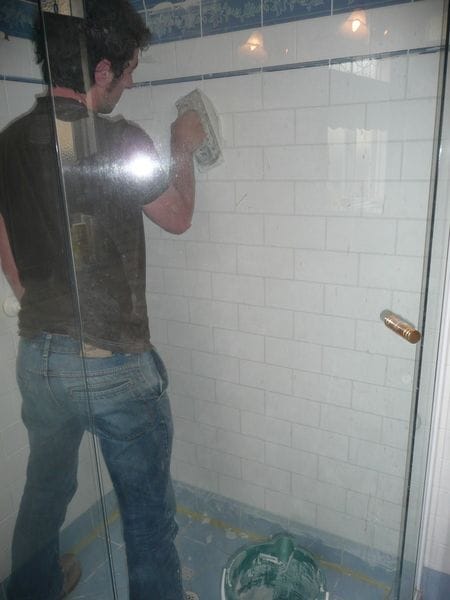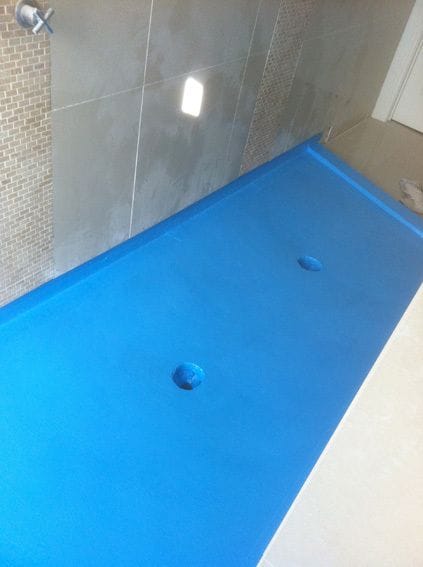 Gallery
Please see our Photo Galleries here: Shower Works, Evidence of Water Damage Showers